20 Units Ankai A6 Coaches to Start Operation in Seoul
Views:55 Author:Site Editor Publish Time: 2019-09-23 Origin:Site
On September 9, a handover ceremony was held at Ankai's production base to mark the delivery of 20 units Ankai A6 coaches to their customer in Seoul, the capital city of South Korea.
With a number of customized features for South Korean market, such as reading lamps for passengers, lamps on steps, luggage holders, Ankai A6 fully meets Euro VI Emission Standards.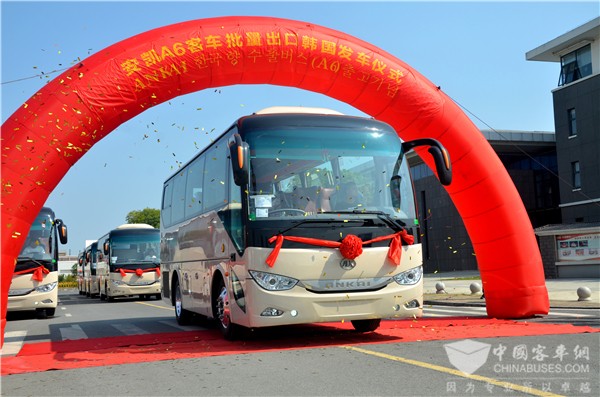 Measuring 8.1 meters in length, A6 is extremely agile and impressively powerful. Having already obtained operation certificate from South Korea, the coach is set to providing greener and more convenient travel services for local citizens.
On the back of its high quality products and competitive after-sales services, Ankai has been enjoying a fast growing popularity in the global market. So far, it has successfully made its way to over 100 countries and regions across the world. Moreover, by obtaining ADR certificate from Australia, GCC certificate from the Gulf Region, DOT certificate from the USA, e/E-mark certificate from EU, and GOST certificate from Russia, the bus maker has already laid a solid foundation for its overseas expansion.