Yutong Bus in Busworld Belgium
Views:31 Author:Site Editor Publish Time: 2017-10-27 Origin:Site
During October 20th - 25th, the biennial World Expo held in Belgium coach Exhibition Center Kortrijk belgium. As the largest and oldest bus show in the world, the exhibition brings together all the bus manufacturers, parts suppliers and bus users from all over the world.
Yutong Bus production enterprise in the world's largest car carrying 9 pounds of weight and won the exhibition debut, issued by Busworld Busworld Award 2017 (Ecology Label), fully demonstrated the outstanding achievements in the field of Yutong new energy and environmental protection, showing the strength of China bus manufacturing enterprises.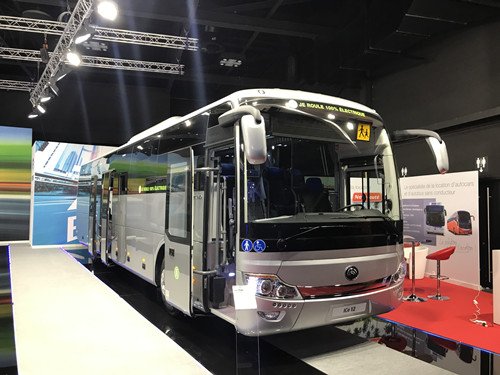 In fact, as early as 2004, Yutong Bus has officially entered the European market, and began to achieve rapid development in 2011. Data show that in 2011, Yutong Bus Sales in Europe passenger car 114, 2012 sales of 200, 2013 383, 2014 277, 2015 535, 2016 995, six years, Yutong sales in the European market from 100 to 1000, achieved rapid growth. At present, Yutong Bus has been spread throughout Europe, France, Britain, Russia, Bulgaria and many other European countries.
As one of the strategic market of Yutong Bus, Europe is also the overseas market of Yutong bus. It is understood that the European market demand for high technology, in order to meet the local high requirements, Yutong Bus specifically for Europe to set up a production line, reduce the pace of production, and allow more flexible continuous improvement.
In addition to new energy vehicles, buses to Chinese already represented in Yutong Bus, travel Europe inter city buses, school buses and other multiple market segments, by continuing to improve the quality of products, and multi field development, continue to expand the European market.
Not only in Europe, but also in the world, the number of passenger cars exported by Yutong has been rising continuously. In the past 2014-2016 years, Yutong exported 6539 buses, 7018 cars and 7121 buses respectively. So far, Yutong buses have been exported to more than 30 countries and regions, covering Latin America, the Middle East, North Africa, Southeast Asia, Europe and the Commonwealth of Independent States and many other regions.
In many years of global market layout and product continuous improvement, Yutong Bus whether brand or product quality has been fully recognized by customers. And in the next overseas market expansion, Yutong believes that service will become the key to enhance its core competitive advantage.