Foton AUV Buses Serve at the Military and Mass Parade on Tian'anmen Square
Views:9 Author:haochen08 Publish Time: 2019-10-11 Origin:http://www.chinabuses.org/
On October, 1, a grand military and mass parade was held at the Tian'anmen Square in Beijing to mark the 70th founding anniversary of the People's Republic of China. On such a special day, 21 units Foton AUV BJ6128 double-deckers served as the carriers for dozens of heroes who made tremendous contributions to China's development. Also, five units Foton AUV buses were refurnished as floats, passing through the Tian'anmen Square.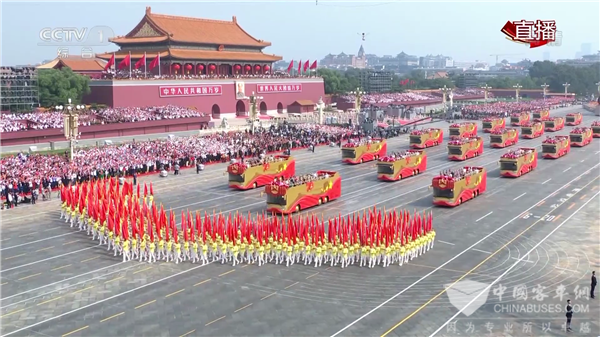 Upon receiving the order from customers, over 600 employees from Foton AUV have been racing against time to develop and manufacture the bus models for this high-profile event. Considering all the heroes participating in the parade were in their 70s, 80s or even 90s, BJ6128 double-deckers have mounted with special VIP seats to improve the travel comforts. Also on board, the calling system and the first-aid medical equipment are available to serve all seniors. A toilet with super large space can also be found on the double-deckers.
The driving speed was set to be 4.2km/h or less, which places particularly stringent requirements on the vehicle's power system. Foton AUV buses working as floats successfully delivered smooth performances during the parade. Teachers from Tsinghua University and other higher institutions were also invited to design the floats, making sure every detail of each float reaches the level of perfection. Moreover, fire-resistant materials have been used to ensure the highest safety standards of all floats.