Why is e-mark approval important?
Views:58 Author:Site Editor Publish Time: 2017-09-04 Origin:Site
Why is e-mark approval important?
E-mark approval on a lamp(e.g. HC-B-2002 IRIZAR TAIL LAMP) basically means that it has been tested by an approved photometric laboratory and has achieved the standards laid down by the EC for fitment to a vehicle within the European Union.
There are other regulations which apply in the UK, such as those for Construction and Use, but broadly speaking, vehicles registered from 1986 onwards are required to have e-marked lights if they are used on a public road. Given the fact that there could be insurance- or even legal implications if a vehicle without e-marked lights is involved in an accident, always follow the manufacturer or distributors guidelines when fitting & using styling lighting.
E logo certification testing of the implementation of ECE member countries are generally technical services. E signs the certificate issuing bodies are members of ECE government departments. Countries the corresponding number of certificates:
E1-Germany; E2-France; E3-Italy; E4-Netherlands; E5-Sweden; E6-Belgium; E7-Hungary; E8-Czech Republic; E9 - Spain; E10-Yugoslavia; E11-British; E12-Austria; E13-Luxembourg; E14-Switzerland; E16-Norway; E17-Finland; E18-Denmark; E19-Romania; E20-Poland; E21-Portugal; E22-Russian; E23-Greece; E25-Croatia; E26-Slovenia; E27-Slovakia; E28-Belarus; E29-Estonia; E31-Bosnia-Herzegovina; E37-Turkey;
e-mark Logo:
e-Mark in the form of signs is divided into two, one is a rectangular frame, a frame is circular, representing the different content: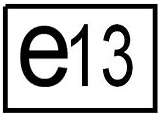 Rectangular frame means to stop the vehicle and the exercise of state can be used instead of the normal use of the products, such as:

Car chargers, car lamps / torches, car air pump, car massage / heated seat cushion, car fans, Electric Car, car refrigerator, coffee pot Car, Car TV / stereo, electric car jack, car cleaners, automotive power tools, etc.

Refers to a circular frame in the vehicle to stop and the exercise of state, must be used in products such as:
Windshields, seat belts, headlights, etc。
Out of the box the number of 1,2, ... 13 ..., on behalf of the e-Mark awarded certificates in different member countries of the EU Code. For example: 1 on behalf of Germany, 4 representatives of the Netherlands, 13 representatives of Luxembourg, 23 on behalf of Ireland and so on, that is, as shown by the code-named the Ministry of Communications issued by the State e-Mark certificate.